Dr. Ariel is passionate about utilizing chiropractic care to inspire people's journey to vibrant health, and their unique experiences of self-healing.
Dr. Ariel is proud to be a second-generation chiropractor, who had the privilege of growing up and later working in her father's office in Massachusetts and then Washington State. From a young age she was fascinated with the seamless connection between the body and consciousness. Upon graduation from The Evergreen State College in Olympia, Washington with a Bachelors of Art, she followed her dream of living in San Francisco. After a bicycle accident, she was helped greatly by a chiropractor and further had the realization that chiropractic was a field she could merge her desire to work with her hands and assist others to heal through this artistic craft which was already engrained in her being and part of her lifestyle.
She graduated Cum Laude, receiving her Doctor of Chiropractic Degree from Life Chiropractic College West, located in the San Francisco Bay Area. During school, she had special interest and training in BGI (Bio-Geometric Integration) and pediatrics and perinatal care. She has participated in many other seminars to advance her skills and knowledge of chiropractic practice. She is trained as a Doula as a continued way to share her love for birth education and draws on her experiences at births to support her pregnant clients as they approach labor.
As a member of the ICPA (International Chiropractic Pediatric Association), Dr. Ariel specializes in pregnancy care, both pre and post natal, and pediatrics. She holds certification with the ICPA for the Webster Technique. This technique is a specific chiropractic analysis and adjustment to gently correct pelvic and sacral subluxation which may contribute to difficult labor, inadequate uterine nerve function, pelvic misalignment, and baby malposition. By alleviating a sacral imbalance and optimizing pelvic neuro-biomechanics in the mother, it can optimize both the health of mom and baby, leading to a more comfortable labor for both.
Dr. Ariel serves everyone from newborns to elders, and people of all ethnicities, genders, abilities, shapes and sizes. She facilitates healing for a myriad of issues arising from structural misalignments in the spine and a inadequately functioning nervous system, including chronic pain, sciatica, headaches, vertigo, irregular menstrual cycle, stress and anxiety, digestion problems and postural issues.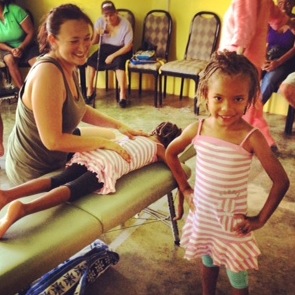 Dr. Ariel has had life long experience in healthy lifestyle choices. When she is not caring for her patients, she enjoys her own self-care in the form of cooking healthy meals, hiking, yoga and dance, bike riding and good quiet time. She loves to travel and provides services abroad annually. She believes strongly that healing can be achieved by the choices we make and has much experience awakening others to become more active participants in their own health and self care practices.
"As I continue to evolve, in my craft and my personal practice of chiropractic, I integrate techniques in a way that reflects my love of learning so I can meet you where you are and assist you in building a foundation to support you in obtaining your health goals." – Dr. Ariel.
 ___________________________________________________
Are you experiencing back pain and discomfort during pregnancy?
Get started now with a complimentary Creating Your Ideal Pregnancy Consultation. During this 60 minute phone conversation you will discover your pain free, comfortable pregnancy and….
Create a clear vision of the pregnancy of your dreams and your ideal birth.
Uncover hidden challenges and patterns that are in your way of having an easy and active pregnancy.
Discover the benefits of regular chiropractic care during pregnancy for mom and baby and its positive effects on labor.
Complete the consultation feeling confident and inspired to take the next steps necessary in being pain free and physically prepared for birth and motherhood.